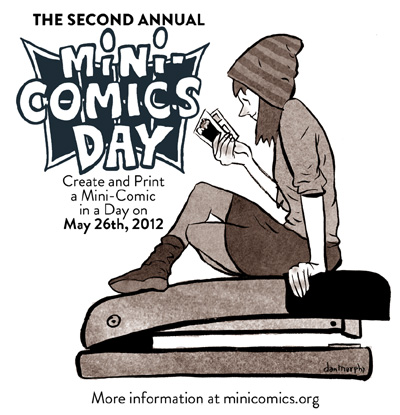 Mini-Comics Day is in less than two weeks! On Mini-Comics Day, participating cartoonists draw and print a mini-comic in a day. Any cartoonist in the world can participate in the event… if you would like to host an event in your community, contact us and we'll get you set up.
Here is the information for those of you participating in the Twin Cities:
The Minnesota Center For Book Arts
1011 Washington Ave S
Minneapolis, MN
May 26th, 10:00 AM – 5:00 PM
Copier will be available on site.
Table space will be provided on a first come, first served basis.
Afterwards, we will move a block over to Grumpy's to give out "The Stapler Award for the Best Minnesota Mini-Comics Day Mini-Comic 2012." To enter we will need three copies of your mini-comic before 7:30PM.
Grumpy's
1111 Washington Ave S
Minneapolis, MN
Contact: Steven Stwalley
webmaster(at)cartoonistconspiracy.com
This may be a good opportunity for you to get a mini-comic ready for the upcoming Lutefisk Sushi Volume E project happening at Altered Esthetics in November.
Help promote the event! Here are assets for the Minneapolis event by 2011 Stapler Award Winner Dan Murphy.
Here is a poster you can print and hang.
Here are flyers to leave around town.
Here are graphics for your website, social-networking site, etc.: